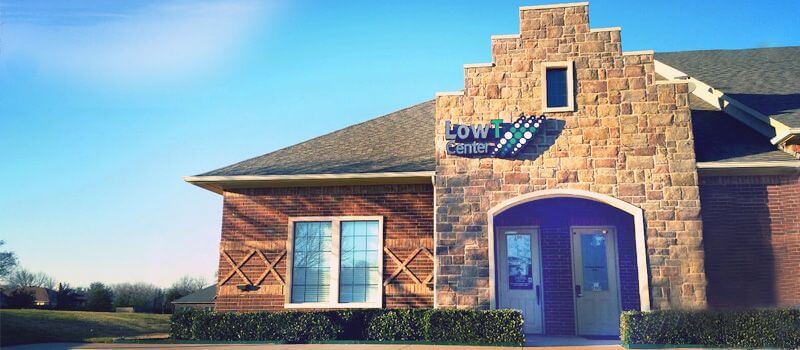 Clinic Details
Flower Mound
4300 Windsor Centre Trail
Suite 100
Flower Mound, TX 75028-1865

Phone:

972-874-5698

Fax:

972-874-5699
Hours of Operation
Mon:

8:30 AM - 5:30 PM

Tue:

8:30 AM - 7:00 PM

Wed:

8:30 AM - 5:30 PM

Thu:

7:00 AM - 5:30 PM

Fri:

8:00 AM - 5:30 PM

Sat:

8:30 AM - 12:30 PM

Sun:

Closed
Holiday Hours
New Year's Day:

Closed

Easter:

Closed

Memorial Day:

Closed

Independence Day:

Closed

Labor Day:

Closed

Thanksgiving Day:

Closed

Christmas:

Closed
Introductory Offer

New patients can get their testosterone levels tested and analyzed for only $50!
General Information
Recent Articles
Welcome to Low T Center – Flower Mound!
One quick, 20-minute appointment can lead to developing a plan to regain your youth and vitality. Plus, new patients can get their testosterone levels tested and analyzed for only $50! Book An Appointment Today!
Your Low T Center in Flower Mound, is designed to make your visit easy and convenient. The Flower Mound physicians utilize an onsite certified laboratory to diagnose Low T conditions in men, and recommend appropriate treatment options tailored for each patient. We invite you to come see for yourself why we've been so successful in helping men get treatment for Low T symptoms.
Feel Younger, More Energetic.
If you've been experiencing symptoms of Low T (read more about Low T here), then the Low T Center is just what you've been looking for.
We've organized Low T Center to fit your busy schedule and unique needs:
Conveniently Located
No Appointment required
No Insurance Hassles / Requirements
Affordable Personalized Care Plans
If you qualify for testosterone replacement therapy (tests are performed right here onsite at 4300 Windsor Centre Trail , Suite 100), your provider can get you started on your first visit. Like any medical condition there is no "one-size-fits-all" solution, and each patient's treatment is tailored by their physician to meet their specific situation.
So if you're experiencing Low T symptoms and are searching for low testosterone treatments in Flower Mound, or want to find out more about your current condition, stop in and visit our local office today. No appointment is necessary, and after the first visit (where we run initial tests), your subsequent visits take no more than a few minutes each.
Stop in today!
Our Healthcare Providers
Derek LeJeune, M.D.
Dr. LeJeune earned his MD from, and completed his Internal Medicine residency at Louisiana State University Health Sciences Center in New Orleans, Louisiana.  He has been in private practice in the Dallas-Fort Worth area since 2006.  Dr. LeJeune is particularly interested in preventive medicine and weight management and the role of testosterone replacement therapy as a means to help achieve these.  Dr. LeJeune joined Low T Center in late 2014 as Medical Director for several Dallas-Fort Worth centers.
Gary Mousseau PA-C, MSHS
Gary W. Mousseau attended the USAF Physician Assistant (PA) Training Program and completed his physician assistant training in 1979 as an honor graduate with a Bachelor of Science degree as a Physician Associate from the University of Oklahoma.  PA Mousseau later earned a Master of Science degree in Environmental Health from Chapman College, California in 1986.  PA Mousseau was appointed as an adjunct assistant professor with the University of Nebraska, School of Medicine while teaching at the USAF Physician Assistant Training Program from 1989- 1992 where he was awarded the Instructor of the Year.  Later he was on staff as the Senior Physician Assistant in the USAF Family Practice Residency Training Program at Eglin AFB, FL.  While on active duty he was awarded the Meritorious Service medal three times and retired as a Major with over 25 years of active military service stationed in Alaska, California, Texas, Panama Canal, Turkey and Florida.  His medical practice experience spans over 34 years in family practice, urgent care, occupational medicine, and andrology.