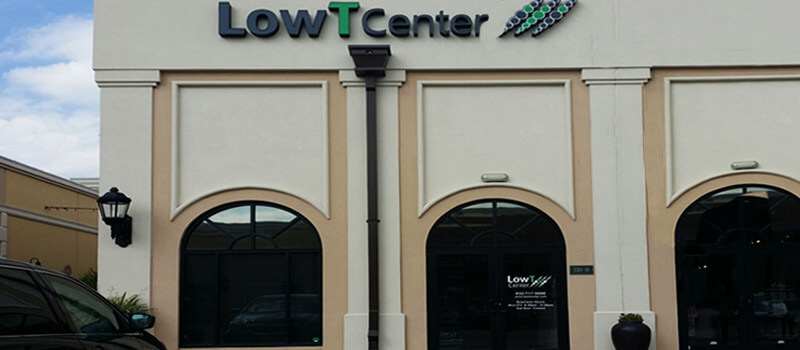 Hours of Operation
Mon:

8:30 AM - 5:30 PM

Tue:

8:30 AM - 7:00 PM

Wed:

8:30 AM - 5:30 PM

Thu:

7:00 AM - 5:30 PM

Fri:

8:00 AM - 5:30 PM

Sat:

8:30 AM - 12:30 PM

Sun:

Closed
Holiday Hours
New Year's Day:

Closed

Easter:

Closed

Memorial Day:

Closed

Independence Day:

Closed

Labor Day:

Closed

Thanksgiving Day:

Closed

Christmas:

Closed
Introductory Offer

New patients can get their testosterone levels tested and analyzed for only $50!
General Information
Recent Articles
Low Testosterone Testing in Houston – Vintage Park
One quick, 20-minute appointment can lead to developing a plan to help you feel younger and more energetic. Plus, new patients can get their testosterone levels tested and analyzed for only $50!
Treatment Centered Around You
Our low testosterone clinic in Houston – Vintage Park is designed to make your visit easy and convenient. The doctors at Low T Center – Houston Vintage Park utilize an onsite certified laboratory to test for Low T (hypogonadism) in men. Like any medical condition there is no "one-size-fits-all" solution, and each patient's testosterone treatment is tailored by their doctor to meet their specific situation.
Low T Center is organized to fit your busy schedule and unique needs:
Conveniently Located
No Appointment required
No Insurance Hassles / Requirements
Affordable Personalized Care Plans
How Low Testosterone Therapy Works
Tests are performed in-house at Low T Center – Houston Vintage Park or at any one of our other Houston locations. No appointment is necessary.
If you qualify for testosterone replacement therapy (TRT), your doctor can get you started on a personalized treatment plan on your first visit. All subsequent visits take no more than a few minutes each. If the cost of testosterone therapy is of concern, Low T Center accepts most health insurance plans and offers several self-pay options as well.
Feel Like You Again
If you're experiencing a decrease in energy, increase in body fat and other symptoms of Low T or just want to find out more about your current condition, stop in or book an appointment at our local clinic today.  See for yourself why our testosterone therapy has been so successful in helping men regain their youth and vitality.
The Team of Medical Providers at Low T Center – Houston Vintage Park
Arthur Austin Jr., M.D.
Prior to joining Low T Center, Dr. Austin was a staff internist for the Texas Department of Aging and Disability in Brenham, Texas for three years. Dr. Austin received his Bachelor of Science in Biology/Pre-med from Texas Southern University in Houston, TX. He received his Medical Degree from Wayne State School of Medicine in 1992. He completed his residency in Internal Medicine at the Detroit Medical Center/Wayne State School of Medicine program in 1995. Dr. Austin brings over 19 years of experience as an internist in direct patient care to Low T Center.
Michael F. Riley, P.A.-C; D.F.A.A.P.A.
Michael graduated from Hahnemann /Drexel University in 1987 with a Bachelor of Science Degree and began practicing as a Clinical Physician Assistant. Michael was awarded the Distinguished Fellow Recognition from The American Academy of Physician Assistant's for his professional contributions to the P.A. profession. Prior to joining the Low T Center, Michael's medical experience included Adolescent Medicine, Microsurgery, Occupational Medicine, Urgent Care, Pain Management and Home Health Care.
Terrence E. Dooley II, PA-C, CPT
Terrence is an undergraduate of Brigham Young University where he earned a Bachelor of Science in Exercise Science. In 2011, Terrence earned a Masters in Physician Assistant Studies from Quinnipiac University. He is currently serving as a Medical Officer in the United States Army Reserves monitoring the health and wellness of over 700 soldiers. Prior to joining Low T Center, Terrence practiced in Orthopaedic Surgery. As one of the 30 million men in America who suffers from low testosterone, he joined Low T Center for the opportunity to serve those who were also affected by low testosterone. Terrence currently serves as a Clinical Director at the Vintage Park location.