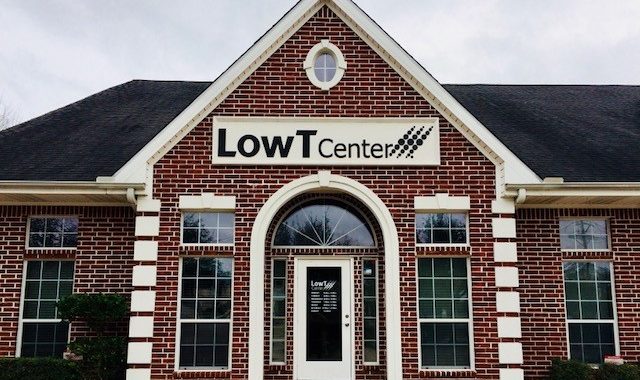 Friendswood
---
Hours
Monday:

Tuesday:

Wednesday:

Thursday:

Friday:

Saturday:

Sunday:
Closed on most major holidays
New Year's Day

Easter

Memorial Day

Independence Day

Labor Day

Thanksgiving Day

Christmas Day
---
Get Sleep Apnea Help in Friendswood
Further Reading
If your family complains about your snoring or your sleep has been restless, sleep apnea could be the cause. We offer sleep apnea testing and sleep apnea treatment in Friendswood. As one of the country's largest sleep apnea treatment centers in the country, our integrative approach means that we can provide everything you need from initial diagnosis to treatment, any necessary supplies and follow up. Helping you deal with your sleep apnea in Friendswood so you can get a good night's sleep is our top priority.
A Trusted Friendswood Sleep Apnea Treatment
Researchers estimate that as many as 22 million Americans may have sleep apnea, a condition that causes interruptions in breathing during sleep. Up to 80 percent of these individuals may not even be aware that they have sleep apnea. Some of the most common symptoms of this condition include daytime sleepiness and irritability. Most importantly, sleep apnea has been linked in studies to a higher likelihood for having a heart attack or a stroke. Low T Sleep Center offers home sleep testing and health assessment services that will determine whether you have sleep apnea. If you do, we will create a customized Friendswood sleep apnea treatment plan that will address the symptoms of this condition and will allow you to enjoy a good night's sleep.
Fast and Convenient Sleep Apnea Diagnosis in Friendswood
When you come in to see us, we'll start with a health assessment. We'll also talk to you about how you're feeling and any symptoms you might be experiencing. Sleep apnea symptoms do not always seem directly relate to sleep, so if you have headaches or difficulty concentrating, these may be signs you have sleep apnea.
We'll need to do a sleep study to diagnose you correctly. Fortunately, you can provide a simple, convenient home sleep test in Friendswood instead of you having to travel to a separate sleep lab and spend an uncomfortable night away from home. We will provide the necessary supplies and directions for your home sleep study in Friendswood. The equipment is easy to use and not intrusive, and it should allow for a much better experience than you would have in an unfamiliar sleep lab setting. Your sleep data will be electronically documented while you are sleeping, and our Friendswood sleep doctor will use that information to diagnose your sleep apnea.
Your Personalized Plan
At the Low T Sleep Center in Friendswood, we are focused on the approach that will be the most helpful for you. This means developing a personalized plan for treatment that you will be able to follow and that will help you sleep better once again. For some people, this could consist of lifestyle changes. You may be able to get your sleep apnea under control with weight loss, a different sleeping position and other changes. Some people may need a continuous positive airway pressure device (CPAP). If this is the case, we'll work with you to find the most comfortable option and get it adjusted so you can get the maximum benefit from it.
If you are ready to get a diagnosis and treatment for your sleep apnea in Friendswood, contact us today at Low T Sleep Center. Make an online appointment with us as the first step toward restoring your quality of sleep and quality of life.
Start Sleeping Well Again
Snoring, daytime sleepiness, mood changes - does this sound like you? Low T Center can help determine whether sleep apnea is causing your fatigue and other symptoms. Why go another night without restful sleep? Let our team get you back on track to better health and better sleep.
Make an Appointment
Your Medical Providers at Low T Center - Sleep Apnea Friendswood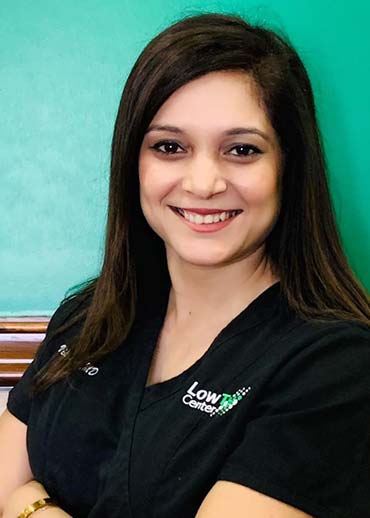 Dr. Vidya Pai, M.D., Head of Sleep Medicine
Dr. Pai completed her internship at Drexel University and her residency at Michigan State University. She then completed a fellowship in Sleep Medicine at the prestigious Harvard University in Boston, MA. She is Board certified in Sleep medicine and a member of the American Academy of Sleep Medicine. She has a special interest in diagnosing and treating complex sleep disorders and truly understands how sleep apnea, narcolepsy, restless legs and parasomnias disrupt lives of patients and their families. Prior to working at Low T Center as the National Sleep Director, Dr. Pai was the Sleep Medicine Director at Providence Health Center, RI and at North Texas Medical Center, TX. Dr. Pai enjoys teaching and writing and has published several peer reviewed articles.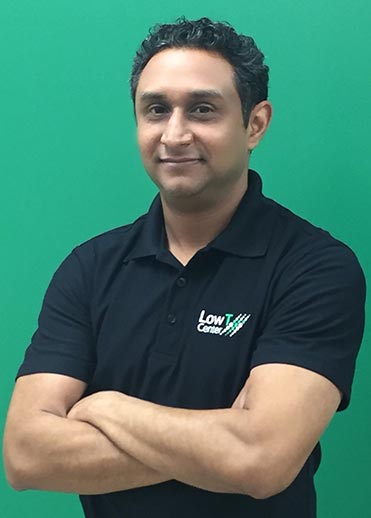 Sudipta Chaudhuri, D.O.
Dr. Chaudhuri started his undergraduate career at University of Texas at Austin earning a Bachelor of Science degree in Chemical Engineering. He went on to complete a master's degree in Public Health at University of North Texas Health Science Center in 2001. Dr. Chaudhuri began his medical career at Texas College of Osteopathic Medicine and graduated in 2005. He went on to complete his Internal Medicine residency in 2008 at Seton Hall University of Graduate Medical Sciences / St. Michael's Medical Center in New Jersey and subsequently completed his Board Certification. Dr. Chaudhuri moved to Texas where he worked as medical consultant and physician for several urgent care centers in the Houston area. Prior to Low T Center, Dr. Chaudhuri worked as medical director for an outpatient clinic at PCP for Life primarily working with underserved populations. Dr. Chaudhuri is fluent in English and Spanish.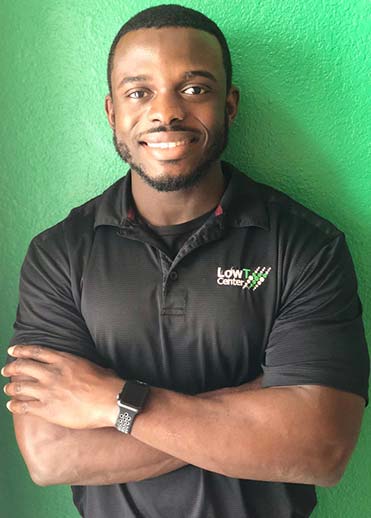 Jeffrey Jean, FNP-C
In 2017, Jeffrey Jean FNP-C became the Center Director at the Low T Center in Cypress. Jeffrey Jean FNP-C earned his master's in nursing from the University of Massachusetts in Boston and became board certified as a nurse practitioner through the American Association of Nurse Practitioners in 2016. He was formerly a Hausman Fellow at the Massachusetts General Hospital, a current participant of the Sigma Theta Tau national honors society, a current participant of the Golden Key International Honor Society, a former participant in the Clinical Leadership Collaborative for Diversity in Nursing at University of Massachusetts in Boston, and most recently a participant Boston Urban Lead Scholar at the University of Massachusetts in Boston from 2014 to 2016.

Jainy Thomas, FNP-C
Jainy Thomas earned her Master of Science Degree in Nursing from Prairie View A&M University in Houston and is board certified through the American Association of Nurse Practitioners. She has been an active member of Houston Area Nurse Practitioners, Texas Nurse Practitioners, and The American Association of Nurse Practitioners since 2016 and was nominated for the Texas Nurse Practitioner's Student Leadership Award in 2019. Throughout her master's program she served as the FNP Student Class Officer while also volunteering as a nurse once a month in the underprivileged health care clinics of Houston. Mrs. Thomas received her Bachelor of Science Degree in Nursing from Texas Women's University in 2014, and then worked in oncology at MD Anderson Cancer Center and The Houston Methodist Hospital systems.