The STOPBANG Test: Quick, Easy Sleep Apnea Risk Screening
If you think you may have sleep apnea, the STOPBANG test is a helpful screening tool that can indicate a sleep apnea risk. This short medical questionnaire is a series of yes or no questions that helps evaluate your likelihood of having moderate to severe sleep apnea. Therefore, if you snore, are frequently tired during the day, experience morning headaches, or notice changes in your libido, the STOPBANG test can help you determine if you're a candidate for a home sleep apnea test. This simple and effective test is your first opportunity for early sleep apnea detection, which can help save your life.
Take the STOPBANG Sleep Apnea Risk Screening
This sleep apnea screening questionnaire can help you determine if you should take a home sleep test for sleep apnea diagnosis. This test's name is an acronym for common symptoms and risk factors of sleep apnea and only takes moments to complete.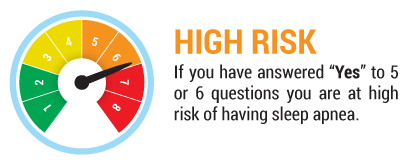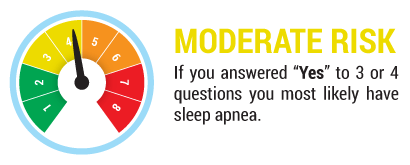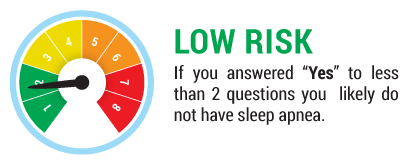 What Does My Score Mean?
Your STOPBANG score is between zero and eight. With each point, the probability that you have sleep apnea increases. Your score relates to how high your risk is for sleep apnea. Here is a guide to STOPBANG scores:
0-2: Low risk of having sleep apnea
3-4: Moderate risk of having sleep apnea
5-6: High risk of having sleep apnea
7-8: Severe risk of having sleep apnea
A score of three or more is a sign that you could benefit from a home sleep test analysis by our board-certified sleep doctor. We offer you several flexible options for sleep apnea testing so you can choose a path that fits your lifestyle.
How Effective is the STOPBANG Test?
The STOPBANG test is one of the most sensitive and easy to administer sleep apnea risk screening tools available. Sleep apnea studies show that it has an 84% success rate at detecting patients with any severity of sleep apnea. For moderate sleep apnea sufferers, the STOPBANG test has a 93% detection rate. Finally, for severe sleep apnea patients, this test has a 100% detection rate.
The higher your score, the higher probability that you have sleep apnea. Any score over three is a sign that your health could be at risk due to sleep apnea.
At the Low T Sleep Center, our team is here to help you improve your health and address your symptoms. We believe men's healthcare should be convenient, accessible, and affordable, which is why we offer a variety of diagnostic and treatment options to help you get to the bottom of your symptoms. Schedule an appointment or order your home sleep test online today to learn more about how you can improve your health.