Why Low T Center for Sleep Apnea?
Further Reading
At Low T Center, we're not just a testosterone clinic – we are one of the leading sleep apnea treatment providers in the United States. We make sleep apnea care simple, comfortable, and affordable. Our team believes sleep apnea diagnosis and treatment should be a seamless, easy experience from diagnosis to ongoing treatment. We take care of everything in-house to streamline your sleep apnea care.
Our Harvard-trained Head of Sleep Medicine develops a customized sleep apnea treatment plan to help you have more energy, feel more focused, and gain the long-term health benefits of sleep apnea care. Then, our sleep team provides ongoing monitoring and support to help you reap the benefits of your treatment plan. We are here to help you achieve results and get a better night's sleep.
Unlike sleep labs, we don't just focus on diagnosing you with sleep apnea. We offer comprehensive care for sleep apnea and other conditions that affect your health. Our team has a long history of treating conditions that affect men and understand that, in many cases, sleep apnea goes hand in hand with other conditions like hypertension, diabetes, and allergies. We take a broad view of your health to identify other conditions that can affect your wellbeing. Our team of medical directors not only includes a board-certified sleep pathologist, but also a cardiologist and an internist to help you feel your best.
A Holistic Approach to Sleep Apnea Care
Our medical team doesn't just focus on this one aspect of your health – we look at your wellbeing as a whole to address any concerns you have. Many sleep clinics and sleep labs focus only on sleep disorders, but we offer diagnosis and treatment for underlying and related conditions that can cause poor sleep quality and prevent you from feeling the full benefits of your sleep apnea treatment.
Here are some eye-opening statistics that show why you need comprehensive men's healthcare if you have sleep apnea:
Approximately 50% of patients with diabetes also have sleep apnea
Mild sleep apnea increases your risk for hypertension by 42%
Untreated sleep apnea significantly increases your risk for cardiovascular events and strokes
The estimated cost of treating health consequences of sleep apnea is approximately $3.4 billion per year in the U.S.
We work with you to treat conditions that can negatively impact your health and the success of your sleep therapy. Our team screens for these common conditions at the same time as your sleep apnea evaluation to help save you time, money, and hassle while improving your health.
Low T Center vs. Sleep Labs and Primary Care Physicians
There are several reasons why it makes sense to work with our team instead of a sleep lab or another clinic. We offer comprehensive sleep apnea care, from testing to supplies, in-house for a convenient, seamless experience. Compare the sleep apnea care path from our medical team compared to other providers: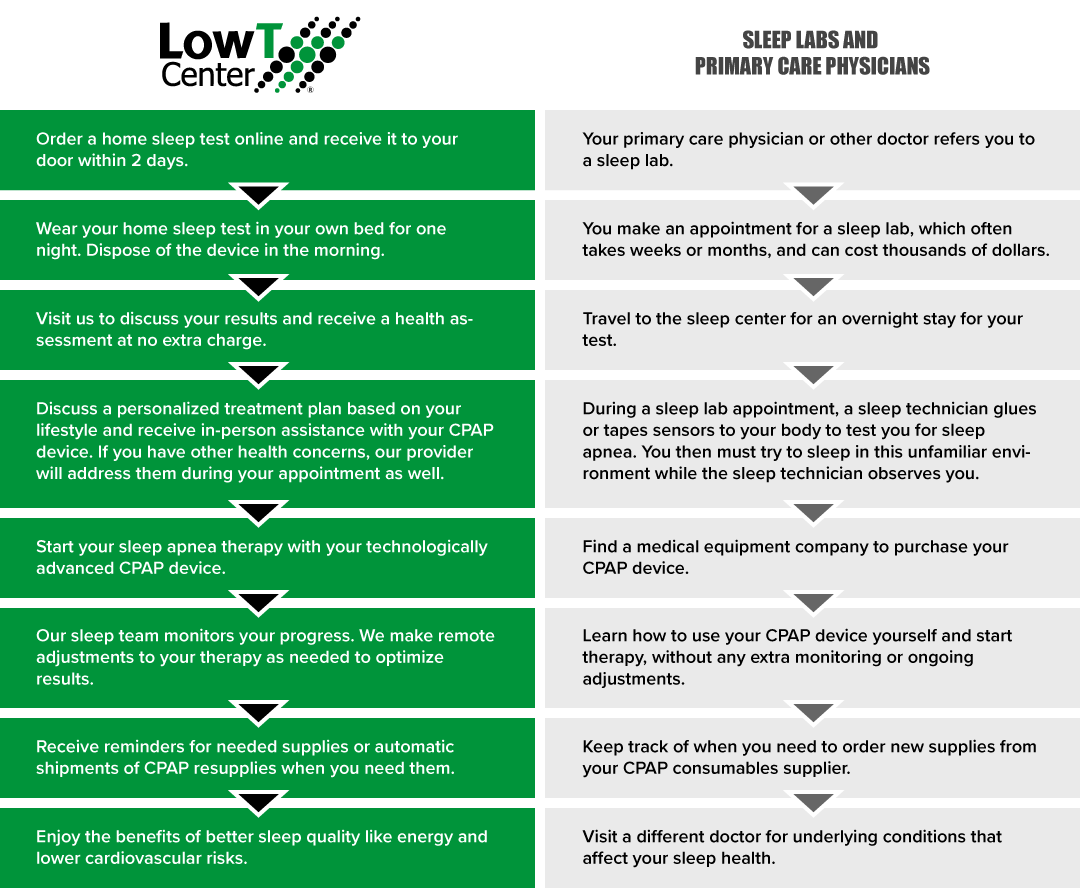 Innovative Sleep Therapy
Our proprietary treatment and monitoring options help improve your sleep health. Many other clinics and CPAP suppliers simply provide you with a sleep apnea treatment device and send you on your way. At Low T Center, we provide ongoing support to help you optimize your results.
While you're in our center, we give you specific instructions and guidance on how to use and care for your CPAP device and help you select the most comfortable options based on your sleeping position and preferences. We also monitor, adjust, and advise you throughout your therapy to help you achieve optimal sleep health and improve your overall wellbeing.
Each night, your CPAP device sends your sleep data to our sleep team to help us monitor your progress and refine your sleep apnea treatment. We'll make remote adjustments as necessary to improve your therapy and help you get the most out of your treatment. If our team notices an issue, like your mask is leaking, we call you to let you know and walk you through the process to correct the issue for optimal results. We'll even send reminders when it's time for CPAP device maintenance and can automatically ship you resupplies to help make your treatment effortless. Our team is here to offer as much support as you need to help you sleep better and make your sleep therapy convenient.
In addition, we provide devices that help make sleep apnea therapy easy, practical, and accessible. For example, the devices we offer save your settings so all you have to do is press the power button – there's no need to make adjustments every time you go to sleep. Also, they are equipped with advanced features for things like automatically adjusting the humidifier for your comfort. You receive all these benefits, as well as a sleek, small design and one of the quietest sleep apnea therapy devices on the market.
Easy, Convenient Testing and Treatment
If you have sleep concerns, we offer inexpensive, comfortable home sleep tests. Unlike sleep labs that are unfamiliar and unpleasant, we provide sleep apnea testing that is done in the privacy of your own home. You simply wear your home sleep test for one night and it sends us your sleep data for our board-certified sleep pathologist to analyze.
After testing, our medical provider will discuss the results with you and provide you with a customized treatment plan to improve your sleep health, which may include CPAP therapy and lifestyle changes. We take the time to ensure you are comfortable with your treatment plan and devices and can use them easily.
At Low T Center, we are here to help you achieve your goals and improve your sleep health. We believe it's important to provide high quality care that's affordable, simple, and tailored to your lifestyle. If you snore, have difficulty concentrating, or feel tired all the time, make an appointment with our team at Low T Center for total sleep apnea care.