CEO Update – Wayne Wilson
Learn about exciting changes to the quality of care at Low T Center, your local hormone (HRT and testosterone replacement therapy (TRT) provider.
DATE: February 23, 2023
Video Transcript:
Hello, my name is Wayne Wilson and I am the CEO of Low T Center.  I'd like to take a couple of minutes today to update you on improvements to your quality of care at Low T Center.

As you may know, hormone replacement therapy requires the administration or prescription of a controlled substance.  During the course of treatment, we are able to determine optimal dosing and the best plan of care for a patient by addressing that patient's symptoms and potential side effects associated with the treatment.  We accomplish this by closely monitoring and evaluating our patients with our team of specially trained, licensed providers.  It is that team and not simply an algorithm or standing order that allows Low T to provide the best possible care to our patients. Moving forward our medical providers will evaluate all of our patients face to face.

For all new patients, the

diagnosis of low testosterone

is determined by taking two qualifying low levels in accordance with medical guidelines and insurance protocols. Whether you opt to self-pay or to utilize your insurance, we will still require two low levels to begin treatment. This is to verify your level so we are able to provide you with optimal care and precise dosing. These two low levels are required to obtain the diagnosis necessary to begin treatment.

We are aware there has been unexpected wait times for some to

receive self-injection deliveries

. This is due to our pharmacy supplier that is in the process of restructuring its operations. Please know, we are working diligently with our partners to reduce lead times in order to provide superior service that you deserve. We are striving to be the best testosterone replacement solution on the market. We appreciate your patience as we go through this process.

We are extremely excited to begin offering

Autonomic Nervous System or ANS

, testing in the next six months to all of our patients.  ANS testing evaluates a patient's physiologic processes including heart rate, blood pressure, respiration, digestion, and sexual arousal.  This is a 7 to 15-minute test that can detect multiple potential life altering conditions at no additional cost to the patient.  This test is required every 6 months so that we can identify any health issues that may require early intervention, and ultimately help our patients achieve better health outcomes. Alternatively, if needed, you may provide an annual cardiac clearance from your cardiologist while on hormone replacement therapy.

Thank you for your time today and trusting us to be your healthcare provider.
Hormone Replacement Therapy: Requires Administration of a Controlled Substance
New protocols will help us determine optimal dosing and plan of care for all of our Low T Center patients. Your health is the most important item on the path to being the best you that you can be.
What is ANS testing?
Autonomic Nervous System testing helps determine if your autonomic nervous system (ANS) is working as well as it should. Your ANS controls body functions that are automatic or autonomic (without you thinking about them). These include breathing, heartbeat, body temperature, and digestion.
Pharmacy Overhaul Update
Thank you for your patience on any pharmacy issues our self-inject, testosterone replacement therapy (TRT) patients might be experiencing. The pharmacy is literally working 24/7, around the clock to offer our patients the best possible delivery options.
The Low T Center mission is to offer transparent methodology, billing and insurance, and in-person visits with licensed medical providers. Check back for more updates to the Low T Center way!
Our Medical Team
The physicians at your Low T Center work with a national medical committee led by William Reilly, M.D., elevating the quality of care for our treatment services.
Low T Center's national medical committee also includes the following experts: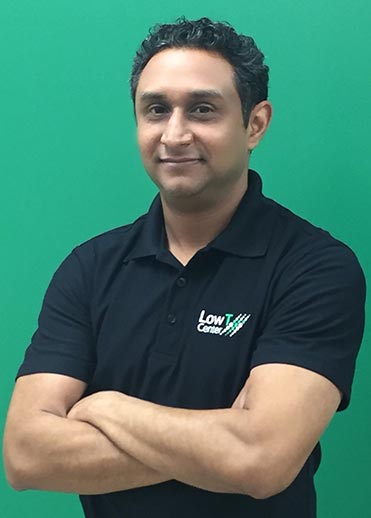 Sudipta Chaudhuri, D.O., Head of Internal Medicine, Lead Physician
Dr. Chaudhuri earned his Bachelor of Science degree in Chemical Engineering at University of Texas at Austin. He went on to complete a Master's degree in Public Health at University of North Texas Health Science Center in 2001. Dr. Chaudhuri began his medical career at Texas College of Osteopathic Medicine and graduated in 2005. He went on to complete his Internal Medicine residency in 2008 at Seton Hall University of Graduate Medical Sciences / St. Michael's Medical Center in New Jersey and subsequently completed his Board Certification. Dr. Chaudhuri moved to Texas where he worked as medical consultant and physician for several urgent care centers in the Houston area. Prior to Low T Center, Dr. Chaudhuri worked as medical director for an outpatient clinic at PCP for Life primarily working with underserved populations. Dr. Chaudhuri is fluent in English and Spanish.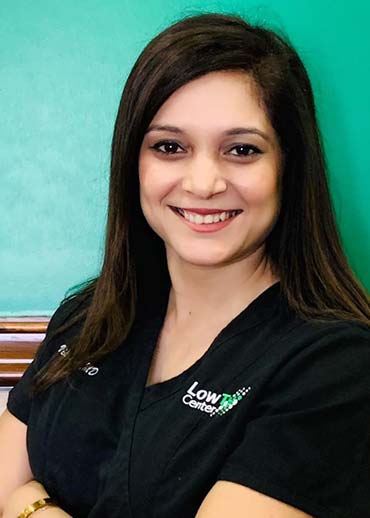 Dr. Vidya Pai, M.D., Head of Sleep Medicine
Dr. Pai completed her internship at Drexel University and her residency at Michigan State University. She then completed a fellowship in Sleep Medicine at the prestigious Harvard University in Boston, MA. She is Board certified in Sleep medicine and a member of the American Academy of Sleep Medicine. She has a special interest in diagnosing and treating complex sleep disorders and truly understands how sleep apnea, narcolepsy, restless legs and parasomnias disrupt lives of patients and their families. Prior to working at Low T Center as the National Sleep Director, Dr. Pai was the Sleep Medicine Director at Providence Health Center, RI and at North Texas Medical Center, TX. Dr. Pai enjoys teaching and writing and has published several peer reviewed articles.