Diabetes – Treatment & Management
Diabetes is a name for several types of conditions in which your body does not use sugar, or glucose, correctly. When you have diabetes, your blood sugar level is too high because of problems with insulin. Your body needs insulin so that it can store and use the sugar it gets from food.
At-Home
Treatment
Options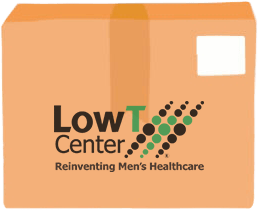 Simple,
Convenient and
Affordable
Type 1 diabetes means that your pancreas is not producing insulin. If you have Type 2 diabetes, your pancreas produces insulin, but your body is not using it correctly. There are other, rarer types of diabetes, but Type 1 and Type 2 are the most common.
Managing your diabetes effectively is a critical part of your healthcare. At Low T Center, as an existing patient, we'll work with you to develop a plan for treating and managing your diabetes.
What Causes Diabetes?
The cause of Type 1 diabetes is unknown, although it is believed that both genetics and environmental factors may be part of it. Genetics and environment may also be factors in Type 2 diabetes, but unlike Type 1, lifestyle factors may also influence its development. Not exercising or being overweight, particularly if the weight is carried in the belly, can increase the likelihood of developing Type 2 diabetes.
Get Diabetes Diagnosed at Low T Center
You may have symptoms related to diabetes, such as fatigue, frequent urination, thirst and unexplained weight loss. However, it is also possible to have diabetes even if you have not noticed any symptoms.
As an established testosterone patient at Low T Center, we offer diabetes testing as part of our men's health assessment. This will include bloodwork that identifies your blood glucose level to determine whether or not you have diabetes. This blood panel and health assessment can also diagnose additional conditions, such as sleep apnea, low testosterone, low thyroid, high cholesterol or high blood pressure.
What is Diabetes Treatment at Low T Center?
If you have diabetes, we'll work with you to determine the appropriate treatment plan based on your health, the type of diabetes you have and any other needs. A diabetes diagnosis does not necessarily mean you will be insulin dependent. Our physician might recommend lifestyle changes, medication or insulin to help you manage the condition.
At Low T Center, we are reinventing men's healthcare. Our holistic approach to your health means that we approach you as a whole person and treat the underlying conditions that are causing you to feel unwell.
Finding out that you have diabetes can be stressful and confusing, but we can help you feel better and lead a healthy lifestyle. We are happy to answer any questions you have about diabetes and treatment for it.
If you have blurred vision, fatigue, excessive hunger or thirst or any other unexplained symptoms that could be diabetes, make an appointment today with your Low T Center provider. As an existing Low T Center patient, we can work with you to figure out what's wrong and put together a personalized health plan that will help you start feeling your best.