Testosterone Treatment – Hormone Replacement Therapy
While your symptoms may point to low testosterone as the cause, our medical team at Low T Center will do a health assessment and blood test as part of a full lab panel to confirm this as a diagnosis. If you do have low testosterone levels, we will prescribe low testosterone treatment for hormone replacement therapy using bioidentical replacement hormones. At Low T Center, we use testosterone replacement therapy (TRT) to treat you for low testosterone.
At-Home
Treatment
Options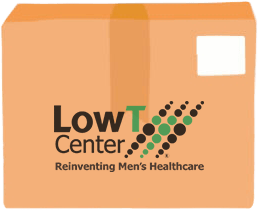 Simple,
Convenient and
Affordable
A Personalized Treatment Plan for Testosterone Therapy
At Low T Center, we know that every patient is unique, and our personalized treatment plans reflect that. If we determine that you are a good candidate for hormone replacement therapy as a result of low t, we can get you started on an individualized health plan that includes it.
Part of that health plan is determining what dosage you need and how often you need it. We have new testosterone therapy options that are simple, convenient and affordable, and address some patients' preference for physical distancing. You can find more information about our testosterone therapy options by clicking here.
Many patients choose in-center therapy and return to one of our centers for injection and monitoring approximately every seven to ten days.  As you reach an optimized, steady state after a period of weeks, we have options for even more efficient in-center visits that allow for you to be on your way in about half the time of a typical visit.  We'll work with you to develop a plan this is best for you.
We believe the best way to provide hormone replacement therapy is with testosterone injections containing bioidentical testosterone. If you prefer to be treated in one of our centers, you'll come into your local Low T Center for a quick visit to receive your injection. This allows our medical team to monitor your response to the therapy and to determine if any adjustments are needed.  If you'd prefer our TRT option, you'll communicate with our medical team through our patient mobile app and our proprietary technology regarding how you're feeling. The team can then make any adjustments to your treatment program.
How Hormone Replacement Therapy Works
When your body is no longer producing enough testosterone, bioidentical testosterone can be used as a replacement. Testosterone replacement therapy, also known as TRT, can give you more energy, increase your libido and change how fat and muscle are distributed in your body. Generally, most men start seeing positive results from TRT in 8-12 weeks. The increased energy that testosterone replacement therapy can provide along with the renewed mental and emotional benefits can also give you more energy to exercise and pursue a healthier lifestyle in general. We want to help you get back to feeling like yourself again.
At Low T Center, we consider each patient holistically. We want to uncover all issues that could be leading to you feeling less than your best. This could include low testosterone, low thyroid or some combination of these conditions. If we simply fix one of these issues, and you suffer from more than one, you will still not feel your best. It's our job to help in finding out all the causes of your symptoms and build a treatment plan to address each issue specifically. It's also important to us that we remain affordable. We accept both insurance and are in-network with most insurance providers. We also offer competitive self-pay options for those without insurance or with high deductible plans.
If you are tired of feeling fatigued, struggling with a low libido or weight gain, or have other symptoms that may be related to low testosterone, make an online appointment with us at Low T Center today. We can help you start feeling better.
You can learn more about the side effects and contraindications of the drugs mentioned on this website by contacting your Provider, or the FDA at 1-800-FDA-1088, or www.fda.gov/medwatch.