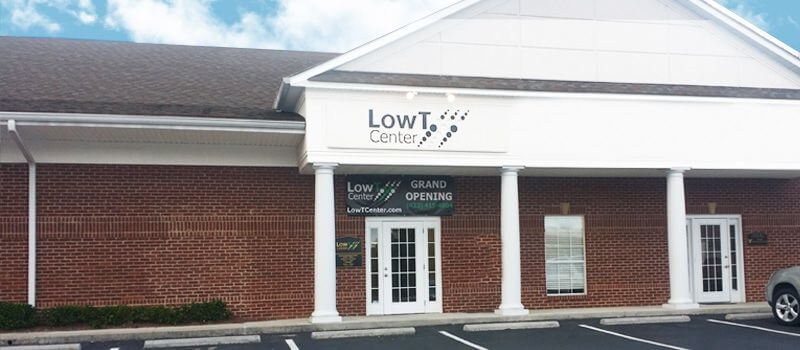 Hours of Operation
Mon:

8:30 AM - 5:30 PM

Tue:

8:30 AM - 7:00 PM

Wed:

8:30 AM - 5:30 PM

Thu:

7:00 AM - 5:30 PM

Fri:

8:00 AM - 5:30 PM

Sat:

8:00 AM - 12:30 PM

Sun:

Closed
Holiday Hours
New Year's Day:

Closed

Easter:

Closed

Memorial Day:

Closed

Independence Day:

Closed

Labor Day:

Closed

Thanksgiving Day:

Closed

Christmas:

Closed
Introductory Offer

New patients can get their testosterone levels tested and analyzed for only $50!
General Information
Recent Articles
Low Testosterone Testing in Chattanooga
Two quick tests confirming you have low testosterone can lead to developing a plan to help you feel younger and more energetic. Plus, new patients can get their testosterone levels tested and analyzed for only $50!
Treatment Centered Around You
Our low testosterone clinic in Chattanooga is designed to make your visit easy and convenient. The doctors at Low T Center – Chattanooga utilize an onsite certified laboratory to test for Low T (hypogonadism) in men. Like any medical condition there is no "one-size-fits-all" solution, and each patient's testosterone treatment is tailored by their doctor to meet their specific situation.
Low T Center is organized to fit your busy schedule and unique needs:
Conveniently Located
No Appointment required
Affordable Personalized Care Plans
How Low Testosterone Therapy Works
Tests are performed in-house at Low T Center – Chattanooga or at any one of our other locations. Initial appointments must be before 11a (some insurances require before 10a), but no appointment is necessary.
After two consecutive tests confirm you have low testosterone, you may qualify for testosterone replacement therapy (TRT), and your doctor can get you started on a personalized treatment plan.  All subsequent visits take no more than a few minutes each. If the cost of testosterone therapy is of concern, Low T Center offers a self-pay option and accepts most health insurance plans.
Feel Like You Again
If you're experiencing a decrease in energy, increase in body fat and other symptoms of Low T or just want to find out more about your current condition, stop in or book an appointment at our local clinic today.  See for yourself why our testosterone therapy has been so successful in helping men regain their youth and vitality.
The Team of Medical Providers at Low T Center – Chattanooga
Vivak Bhatt, M.D.
Prior to joining Low T Center, Dr. Bhatt was Assistant Professor of Clinical Medicine at Vanderbilt University School of Medicine in Nashville, TN. Dr. Bhatt received his Bachelors in Psychology from Austin College in Sherman, TX and his Medical Degree from Ross University School of Medicine. He completed his residency in Family Practice at University of Tennessee – Memphis. Dr. Bhatt opened and ran a very successful practice in Hermitage, TN for over 11 years. At Low T Center, Dr. Bhatt's focus will be on educating men and helping them to establish goals to promote their well-being.
Mark A. Dugger, FNP-C
Mark attended undergraduate school at East Tennessee State University where he graduated with a Bachelor of Science Degree in Biology in 1999. Mark went on to complete his Bachelor of Science Degree in Nursing from the University of Tennessee at Chattanooga in 2004. After completing his Bachelor's Degree in Nursing, Mark worked in critical care, cardiac, and emergency nursing for more than 12 years before completing his Advanced Practice Nursing Degree at the University of Tennessee at Chattanooga. Graduating with honors, Mark was inducted into Sigma Theta Tau, the national honor society for nursing. Mark is currently a member of the American Academy of Nurse Practitioners as well as Chattanooga Area Nurses in Advanced Practice.
Leroy Thomas (Tommy) Calfee, FNP-C
Tommy Calfee proudly served our country for five years in the United States Army.  He used his GI Bill to pursue a career in nursing and graduated from Cleveland State Community College with his Associates of Science in Nursing in 2005.  Before returning to undergraduate school, he gained experience in many different fields of practice in nursing including emergency department, cardiovascular, pediatrics, and hospice.  Tommy earned his Bachelor of Science in Nursing in 2013 from the University of Tennessee at Chattanooga.  Tommy then earned his Masters of Science in Nursing with a Family Nurse Practitioner from the University of Tennessee at Chattanooga.  Prior to joining Low T Center, Joseph practiced as a family practice provider in Chattanooga, TN.
October 30, 2015

Low T Center

So, you had a late night last night. It happens to the best of us. You can't call out of work because of your early morning, mandatory meeting, so your only option is to suck it up and power through the day. As terrible as this idea is may sound, there are things you can ...

September 30, 2015

Low T Center

Hindsight is always 20/20. This is evident in many areas of life, a shining example being how our country got obsessed that the best measure of our health is the number we read on the scale. "How much do I weigh?" is a common question we ask of ourselves, and a measurement that our doctors ...

May 11, 2015

Low T Center

A flat belly and trim midsection can feel outstanding. Who doesn't like walking the beach in a swimsuit with confidence, turning someone's head at the mall, or fitting into a size smaller jeans? Everyone can certainly use a confidence boost based on their appearance. However, there are even better reasons to keep the extra baggage ...