Hormone Deficiency in Men
Men who have a hormone deficiency may suffer from symptoms that include a decreased sex drive and muscle weakness. A hormone deficiency, commonly related to low testosterone, (medically called hypogonadism), occurs when the body does not produce enough testosterone, which for some men may result in a number of uncomfortable symptoms.
At-Home
Treatment
Options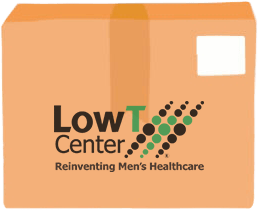 Simple,
Convenient and
Affordable
Hypogonadism may happen for a number of reasons. There is a link between your hormones and aging. Men naturally have lower levels of testosterone in their bodies as they get older, but most of the time, they do not suffer any serious symptoms as a result. A hormone deficiency may also be linked to certain conditions. For example, around 17% of men with type 2 diabetes have lower levels of testosterone. There may also be a link between low testosterone and obesity.
When you come into Low T Center with concerns about your symptoms, we'll run some tests to find out whether low testosterone is the cause.
What Are the Symptoms of a Hormonal Imbalance?
Two of the most common symptoms of a hormonal imbalance are fatigue and a decreased sex drive. You might also have a hormone deficiency if you are struggling with your concentration or memory, if you feel anxious or depressed, or if you have noticed mood changes in general. Unexplained weight gain and a loss of muscle mass is another common symptom of hypogonadism since testosterone is responsible for muscle development. Untreated, a hormone deficiency can lead to longer-term problems, and the sedentary lifestyle that can result from a lack of energy and drive can lead to many serious chronic diseases like high blood pressure, high cholesterol and diabetes.
Because many of the symptoms of a hormone deficiency are similar to the symptoms of other conditions, like sleep apnea and low thyroid, you might have been undiagnosed, misdiagnosed or under-diagnosed for years. At Low T Center, in addition to checking your hormone levels with a full blood panel, we consider what else could be causing your symptoms. If we only address one issue, and you're suffering from others, you still won't feel your best. Our goal is to eliminate the negative symptoms you're experiencing by identifying the entire root cause and treating ALL the issues that are causing the symptoms. The blood panel also let's us see if these conditions have already led to other serious health conditions like high blood pressure, high cholesterol and diabetes. If you are diagnosed with a health condition, we will discuss potential treatment options for those as well, as part of your overall personalized treatment plan.