Can Hypertension be Treated?
When you come to Low T Center for a men's health assessment, we'll check your blood pressure using a blood pressure cuff. This tells us the systolic and diastolic pressure of your blood. When either of these numbers are high, it could indicate that you have hypertension.
At-Home
Treatment
Options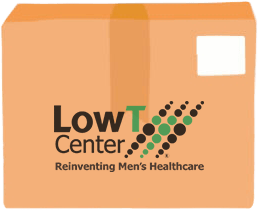 Simple,
Convenient and
Affordable
A single blood pressure reading may not be sufficient to diagnose you with hypertension. For example, your blood pressure could be higher than usual because of stress. Some people even suffer from stress specifically related to being in a medical facility, often referred to as "white coat syndrome." We evaluate your medical history, lifestyle, symptoms and schedule further blood pressure checks before we make a definitive hypertension diagnosis.
While there are some symptoms associated with hypertension, including fatigue, headaches and shortness of breath, you can have high blood pressure even without symptoms. This is true of some other conditions as well, so getting regular men's health assessments is important.
Identifying the Cause of Your Hypertension
Our approach to high blood pressure treatment will vary depending on a number of factors including the cause of your hypertension, your lifestyle and the severity of your high blood pressure.
Your high blood pressure could be related to other conditions. For example, sleep apnea and thyroid issues could cause high blood pressure. In those cases, treating the other condition may also address your hypertension.
Even if this is not the case, at Low T Center, we take a holistic approach to your health, meaning that we may treat you for multiple conditions at once. For most adults with hypertension, there is no single cause that can be identified although there are certain risk factors that could be responsible. We'll work with you to create a personalized treatment plan that addresses your health needs.
How Do You Treat Hypertension With Lifestyle Changes?
Risk factors for high blood pressure include not exercising, being overweight, smoking, drinking too much and consuming too much salt. Stress can also lead to hypertension. For some people, lifestyle changes might be enough to lower blood pressure to normal levels. We may work with you on a plan for changes to your lifestyle that could make you healthier.
How Do You Treat Hypertension With Medication?
Some people might be unable to make all the necessary lifestyle changes, or the changes may not be sufficient. You might already lead a relatively healthy lifestyle and still have high blood pressure. In these cases, medication may be necessary to manage your hypertension.
In other cases, lifestyle changes may help in the long run, but your blood pressure might be high enough that we want to start off by bringing it down quickly with medication. We may suggest a combination of medication and lifestyle changes. We'll continue to monitor your blood pressure, and our approach to your treatment may change over time.
Whether you have questions, or you have symptoms associated with high blood pressure that concern you, at Low T Center, we can help. Make an appointment online with us for a men's health assessment and we'll get started right away on helping you feel your best.