Home Sleep Test – 2019 June Special
Posted: May 30, 2019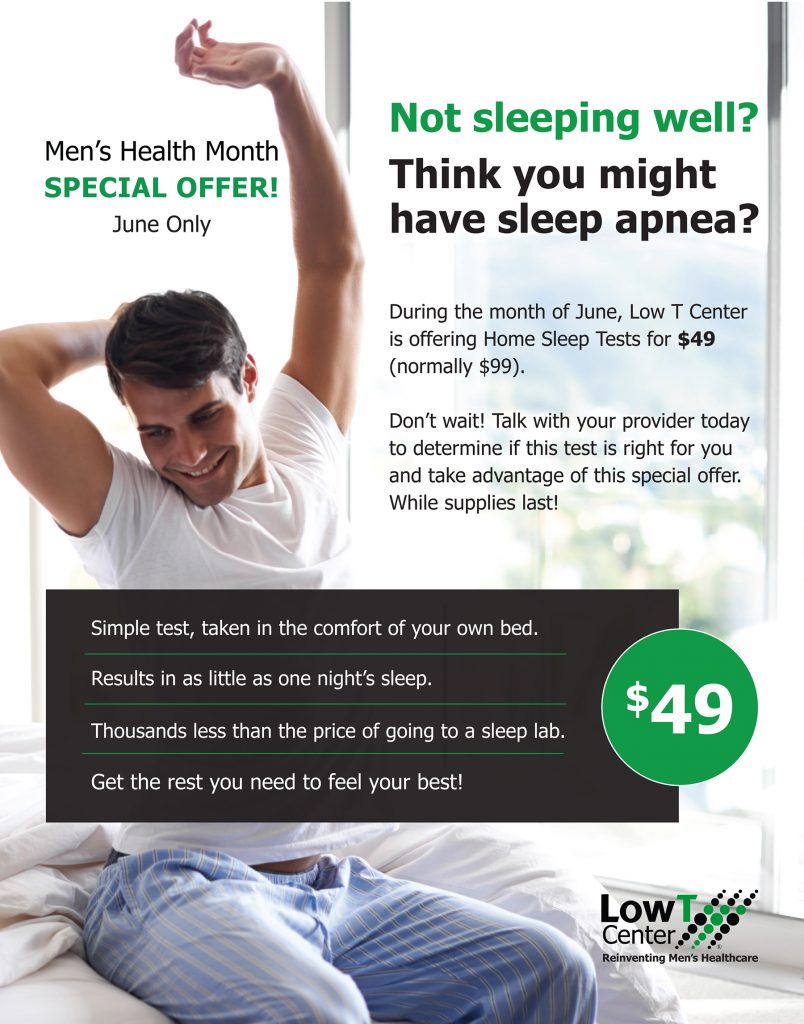 Low T Center is offering a $49 Home Sleep Test (normally $99) during June – National Men's Health Month.  This is a GREAT price for cutting edge technology.  This simple take home test requires only one night of sleep, in your own bed, as compared to visiting a sleep lab and being "watched while you sleep".  Sleep labs can cost anywhere from $1500-$4k, and our HST is regularly $99.  Low T Center's June promotion slashes the price tag in half,  so if you or your man has been on the fence, ACT NOW in June to exercise the discount.
Men shouldn't wait to book an appointment at our men's healthcare clinic – at this price, our appointments and tests will book up fast. This promotion is ONLY available in the month of June, and as appointments and HST's are available.
This test can diagnose the severity of any potential sleep conditions (none, mild, moderate, or severe), and the type of sleep apnea (central, obstructive, or mixed), and from that the Low T Center medical team will prescribe an appropriate therapy – potentially a CPAP machine.
For patients starting CPAP , Low T Center provides a white glove experience, individual consultation to assist with mask selection and fitting, as well as an overview of how the machine works. This is a differentiator as many sleep doctors, upon diagnosis, will simply send the machine and equipment to the patient's home and to be left watching YouTube videos on how to fit the mask and set up up the machine.
With personalized treatment, Low T Center is your go-to men's health clinic for many "age-related" health topics like sleep issues/sleep apnea, hormone imbalance, diabetes, high cholesterol and more. Book an appointment today and let's get you on the schedule for the month of June!
Make sure to follow us on Facebook / Twitter / Instagram  for men's health news as well as other summer specials!
Related Posts
Disclaimer: This article is made available for general, entertainment and educational purposes only. The opinions expressed herein do not necessarily reflect those of Low T Center. You should always seek the advice of a licensed healthcare professional.