Low T Center and Gas Monkey Energy Sponsor Car at 100th Indy 500
Posted: May 16, 2016
Low T Center founder and CEO Mike Sisk and Gas Monkey's Richard Rawlings have joined for the 100th Running of the Indy 500. Both companies, based in Dallas-Fort Worth, have found synergy with reaching sports-minded men who have a passion for life and cars.
On May 29 at Indianapolis Motor Speedway, Low T Center will be featured as an associate sponsor for Gas Monkey Energy and Dreyer & Reinbold-Kingdom Racing in the No. 24 Chevrolet. Sage Karamm 21, is the scheduled driver and is new to the Gas Monkey family as well. In the 2014 Indy 500, Karam started 31st and finished ninth.
"I've known Richard for quite some time now and have watched him build his brand and business," Sisk said. "I've always admired Richard's passion and enthusiasm. I believe this collaboration will help Low T Center broaden awareness about men's health concerns and encourage men to be more proactive with their health.
"We've expanded Low T Center rapidly across the country as men have become more educated about the symptoms and treatment for low testosterone levels. What better place to educate guys about knowing their testosterone numbers than at the 100th Indy 500?"
Low T Center is a leader in the provision of physician-led diagnosis and treatment of low testosterone. Studies indicate testosterone deficiency has been linked to diabetes, metabolic syndrome, obesity, and high blood pressure.
Low T Center was designed so men can walk in, take a simple blood test, and know within 45 minutes if they are a candidate for testosterone replacement therapy. Experience shows testosterone injections may lead to improved energy, strength, and libido, as well as decreases in body fat, irritability, and depression.
"I'm excited to welcome Low T Center on board with Garage Monkey Energy," Rawlings said. "This is a great way for Mike and I to finally work together on something we are both passionate about, plus this is a great way for Low T Center to get in front of men and share their message."
About Low T Center
Founded in 2009, Low T Center has quickly evolved into a pioneering and innovative medical practice model. As demand for information about testosterone therapy grows, Low T Center has established itself as a leader in treatment and public awareness. Nationally there are 46 Low T Centers operating in 10 states.
About Gas Monkey Energy
Gas Monkey Energy is a high-octane energy drink for true adrenaline junkies. It's fuel for those of you whose passions get you scraped, bruised, burnt, or worse — yet it's what you love to do. Soon to be on shelves nationwide, Gas Monkey Energy is available in regular or light.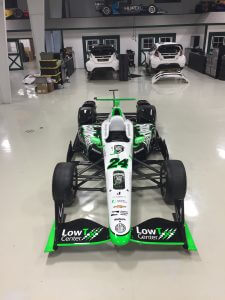 Related Posts
Disclaimer: This article is made available for general, entertainment and educational purposes only. The opinions expressed herein do not necessarily reflect those of Low T Center. You should always seek the advice of a licensed healthcare professional.