Low T Sleep Center
At-Home Sleep Test
+ Free Shipping
Your First Step To a Better Night's Sleep!
Sleep apnea testing in the comfort of your own bed!
Small, Lightweight, Easy-to-Use
Highly Accurate, Fast Results
Simple Step-By-Step Instructions
Delivered To Your Door In 1-2 Days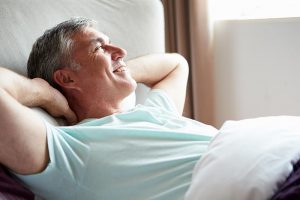 Only 4 Easy Steps:
Download the app
Wear the device for one night.
Dispose of it the next morning.
Book a sleep appointment at no additional cost to discuss your results!
Our WatchPAT One device is a technologically advanced monitoring device that uses only 3 points of contact to measure seven key factors to detect sleep apnea, sleep apnea severity, and your individual sleep architecture in the comfort of your own bed! After one night of monitoring, our device automatically transmits your sleep data to our sleep team for analysis. It's that simple!
Fast, Convenient, Affordable
Sleep Apnea Diagnosis and Treatment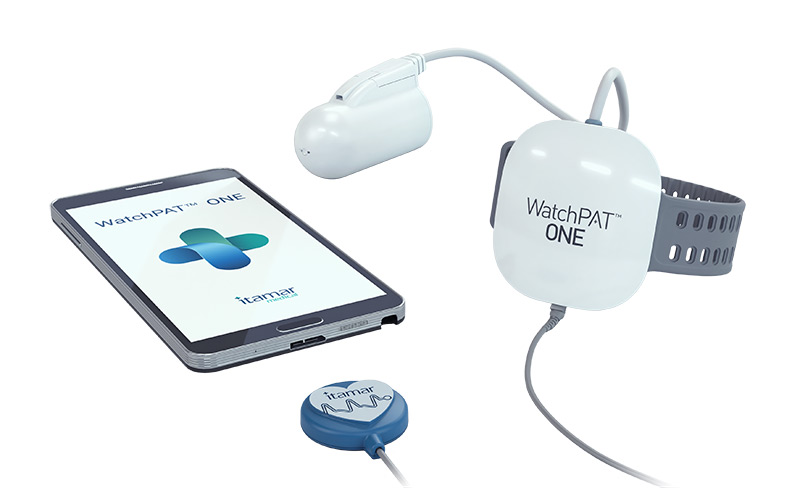 Need help ordering or have questions? Call our customer service line at (866) 806-8235.
WatchPAT One Components:
Our disposable home sleep test detects sleep apnea using three small points of contact:
Watch-like device which you will wear on the wrist of your non-dominant hand
Pulse oximeter finger clip, which you will wear on your index finger
Chest sensor sticker which you will place on your chest just below the neck
After wearing our home sleep test for one night, your sleep data will be automatically sent to our sleep team at the Low T Sleep Center for analysis.
How the WatchPAT One Technology Works:
Our WatchPAT home sleep test uses advanced technology to detect seven different factors of sleep apnea, including:
Peripheral arterial tone (PAT): PAT offers a non-invasive look at your cardiovascular system and autonomic nervous system to identify apnea events. Our home sleep test utilizes verified and innovative algorithms to detect sleep apnea
Heart Rate: Our home sleep test monitors your heart rate for indications of respiratory cessation during sleep
Actigraphy: Our WatchPAT uses non-invasive methods to collect data about your circadian rhythms and sleep patterns. The advanced home sleep test technology uses a proprietary and verified algorithm to detect true sleep time and sleep architecture for more accurate apnea index results.
Body Position: Our home sleep test detects your body position to understand how body position influences your sleep pattern. Your test evaluates information about whether you are sleeping on your back, stomach, or side.
Oximetry: Our home sleep test evaluates blood oxygen levels and oxygen saturation levels to detect apnea events and hypoxemia associated with sleep apnea.
Snoring: Our WatchPAT sleep test detects snoring and measures snoring decibel levels as you sleep.
Chest Motion: Our home sleep test monitors chest motion to detect momentary pauses in respiration to detect apnea events during sleep.
Refund Policy
If you want to return your home sleep test, we will happily accept devices returned new, unused, and in their original, unopened packaging. Please note that we are unable to send refunds for devices with a broken seal.
To set up a return, please reply to your sleep purchase welcome email or send us a message at sleeppurchases@lowtcenter.com. For your return, we will email you a FedEx return shipping label to send the device back to us.
Within 24 hours after we receive your returned home sleep test, you will see a refund to your credit card, less a return shipping and restocking fee of $30.