The Difference Between TRT and "T-Boosting" Supplements
Posted: December 18, 2019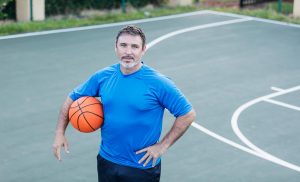 Many men wonder if they should treat their low testosterone levels through a testosterone clinic, or if they can use supplements sold at their local health food store. With the rise of testosterone "boosting" products, it can be difficult to separate fact from fiction. However, since low testosterone can affect your lifestyle, it's important to take steps toward feeling better by developing a treatment plan for your low T. Though it can be tempting to use supplements that promise to boost your testosterone production, this may not be the best option for you. Some supplements simply don't work, and others could cause serious side effects. Therefore, it's best to do some research and talk to your physician about treatment for your symptoms.
Effects of Low Testosterone
Testosterone production naturally decreases as we age. However, sometimes low levels leave you with symptoms that can affect you negatively. Some of the common low testosterone symptoms that can keep men from living life to the fullest are:
Fatigue
Unexplained weight gain
Difficulty focusing
Depression
Decreased libido
Testosterone is a hormone that plays a significant role in your quality of life. It controls sex drive, bone mass, muscle mass, red blood cell production, and sperm production. For this reason, it's important that your testosterone levels are within a healthy range. Low testosterone can lead to undesirable symptoms that keep you from being your best.
If you suspect that you are suffering from low testosterone levels, you should visit your testosterone clinic for a blood test. Blood tests can help your doctor determine if you have low T and develop a customized treatment plan for you. This may include testosterone therapy to help stabilize and raise your hormone levels. Additionally, if your testosterone levels aren't low, we can help you address your symptoms and find the underlying cause for why you are feeling poorly.
Recently, the effects of low testosterone have been gaining public awareness. This is important, as it can help men discover the cause of their symptoms and seek treatment. However, due to this attention, some companies have been marketing over the counter treatments for low testosterone that men can take without seeing a physician. While this may seem like a forward step in men's wellness, these supplements may promise more than they can provide.
Testosterone Supplements
Many testosterone supplements make appealing claims in their marketing campaigns. For example, some of these supplements say they can increase your testosterone levels, help you gain muscle, and improve your libido. Additionally, they are often advertised as a "natural alternative" to traditional testosterone therapy. However, the efficacy of these supplements is still up for debate. Because so called "T-boosters" are supplements, they are unapproved by the FDA. The idea behind these testosterone supplements is that they give you the vitamins and minerals your body needs to make testosterone. However, recent studies show that many don't even contain ingredients that might support testosterone production. Additionally, many were found to include vitamins and minerals above the tolerable limit. This means that they could contain enough of these vitamins and minerals to risk an overdose or serious side effects.
Also, studies have shown that even when these supplements do work, they only increase testosterone between 20-50%. Generally, this is not enough for low T sufferers to return to healthy baseline levels. Therefore, if you have low T, it's best to talk to your physician about treatment plans to help your symptoms.
Testosterone Therapy
By contrast, testosterone replacement therapy is approved by the FDA. During replacement therapy, your doctor monitors your levels and helps you treat symptoms of low testosterone.
Many patients have experienced improvements in low testosterone symptoms after using testosterone therapy. Oftentimes, you can see a difference in how you feel pretty quickly after you start a treatment plan that includes testosterone shots.
Your TRT clinic can help you find solutions that fit your specific case. If your levels are low, your testosterone clinic may suggest testosterone injections containing bioidentical hormones. These hormones are molecularly identical to the testosterone your body naturally produces.
Also, as you progress in your treatment plan, you may need dosage adjustment to balance your hormones. Visiting your testosterone clinic for testosterone injections will allow your physician more dosage control to help you maintain optimal levels. When you come in for a testosterone shot, we will discuss how you are feeling and address any health issues or concerns you may have. For this reason, you should visit your testosterone clinic if you think that you would benefit from hormone replacement therapy.
Visiting Your Testosterone Clinic for Low Testosterone
The first step to diagnosing low T is to receive a comprehensive men's health assessment. This is important, as something other than low testosterone could be causing your symptoms. Health assessments help our physicians determine why you are feeling unwell. We take a holistic approach to men's healthcare and are more than just a testosterone clinic. Therefore, we can help you with many different health concerns.
During your assessment, your physician will test your testosterone levels with a simple blood test. Also, you will receive a full blood panel to help us get a baseline for your health. If you are a good candidate for testosterone therapy, we will discuss your options and help you find a treatment plan that fits your condition and lifestyle. We know how important your time and way of life is, so we designed our assessments and treatments to be as convenient as possible. Our goal is to help you feel your best.
For more information on how testosterone therapy may be able to help your symptoms, make an online appointment with Low T Center today. You don't have to suffer from low libido, depression, and other symptoms associated with low testosterone levels. We can help you find a personalized treatment plan to address your symptoms and help you feel reinvigorated.
Related Posts
Disclaimer: This article is made available for general, entertainment and educational purposes only. The opinions expressed herein do not necessarily reflect those of Low T Center. You should always seek the advice of a licensed healthcare professional.