Getting a PSA Test During Prostate Health Month
Posted: September 25, 2019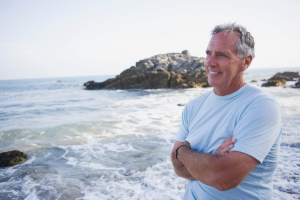 PSA stands for prostate-specific antigen, a protein that the prostate regularly produces. Elevated levels of PSA can indicate the presence of prostate cancer. A PSA test is a relatively simple blood test. It is not definitive for prostate cancer, and a positive result simply indicates the need for further investigation. A number of other factors can cause an increase in PSA levels, including a benign enlarged prostate or a urinary tract infection. If your PSA test does show an increase in levels, your doctor will talk to you about next steps, including further testing.
Risk Factors for Prostate Cancer
Recommendations about when to start getting a PSA test vary, but it is generally advised for men in their 50s since the risk of developing prostate cancer increases with age. However, there are other factors that could mean earlier PSA testing at a men's health clinic is a good idea. Men who have an uncle, father or brother who had prostate cancer are considered more likely to also develop the disease.
Researchers have actually identified genes that increase the risk of prostate cancer, the BRCA1 and BRCA2 genes that are also associated with breast cancer. Men who have an immediate family member who has been tested and who has one of these genes may want to consider getting such a test as well.
Finally, lifestyle is important. The risk of prostate cancer may be higher for men who eat fewer vegetables and more animal fat.
It is often recommended that men in high-risk categories consider PSA screening starting around the age of 40, but this decision is best made in consultation with a medical professional. Men of all ages should take steps to ensure their prostate health. This includes making an effort to eat healthily and exercise regularly.
Honor Prostate Health Month with a PSA Test
To celebrate Prostate Health Month in September, we are offering a special price for a men's health assessment, which includes a PSA test. Make an online appointment for anytime in September to pay just $79, $20 off our usual price. We're ready to help you start taking better care of your health today.
Related Posts
Disclaimer: This article is made available for general, entertainment and educational purposes only. The opinions expressed herein do not necessarily reflect those of Low T Center. You should always seek the advice of a licensed healthcare professional.