How Low Testosterone Could Be Causing Your Sleep Issues
Posted: October 11, 2019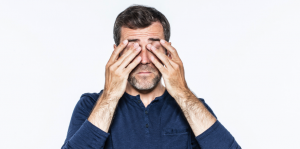 Did you know that if you suffer from insomnia or other sleep issues, low testosterone could be to blame? Male hormone treatment may help address your sleep issues and ensure that you get a good night's sleep once again.
The Link Between Sleep and Testosterone
Low testosterone can cause fatigue even for men who are getting plenty of sleep. However, in some cases, men may suffer from sleep issues that are caused by low testosterone.
The relationship between sleep and low testosterone is a complex one. A hormone imbalance may cause sleep issues, and research has found that some men with sleep apnea also have low testosterone. For example, in 2012, researchers presented a paper at the annual meeting of the American Urological Association about a study in which men had a 50% higher chance of having low testosterone if they also had sleep apnea. However, sleep apnea and low T are two separate health issues that must be treated separately.
Diagnosing Sleep Issues
Male hormone treatment can resolve sleep issues related to low testosterone, but some men may have sleep apnea in addition to a hormone imbalance. Therefore, even if a man is diagnosed with low testosterone, if he also has sleep issues, it is necessary to determine whether he has sleep apnea as well.
Sleep apnea is a condition in which men stop breathing repeatedly throughout the night. It can lead to serious issues because it reduces the oxygen levels in the blood. The lack of sleep can also substantially affect a man's quality of life.
Sleep Apnea Treatment
A home sleep test can determine whether sleep apnea is a factor in a man's sleep issues. At that point, even if he is receiving male hormone treatment, he will also need sleep apnea treatment. Low testosterone treatment can help if fatigue or sleep issues are caused partly or solely by a hormone deficiency.
At Low T Center, our holistic approach to health care means we may treat you for multiple issues, such as sleep apnea and low T, at the same time. If you are suffering from fatigue or sleep disturbances, make an online appointment with us today at Low T Center. We can determine the causes of your sleep issues and get you started on low testosterone treatment or sleep apnea treatment if necessary.
Related Posts
Disclaimer: This article is made available for general, entertainment and educational purposes only. The opinions expressed herein do not necessarily reflect those of Low T Center. You should always seek the advice of a licensed healthcare professional.